Photo of of Attendees at Lecture-Recital on April 2, 2019 by Dennis Lee and Chee Hung Toh, husband and wife concert pianists from London, England.
PASADENA members attending include Guo Chih Liu, Naomi lee, Katherine Kim, Jing Xu, Esther Chang, Winna Tan, Allison Chu, Michiko Hartzberg and Diane Eisenman. (Not pictured- Cindy Liu).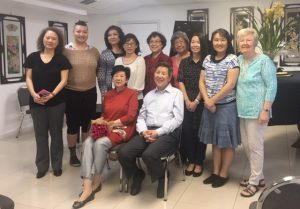 Photos of teachers at Certificate of Merit Written Evaluation Day Sunday, March 3, 2019 at the Pasadena Hilton Hotel
Photos from our Teacher Appreciation Party on Sunday, January 6, 2019 at the Tea Rose Garden in Pasadena.
Photos from Certificate of Merit Written Evaluation Day Sunday, March 3 at the Pasadena Hilton Hotel